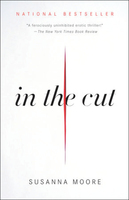 ORDER THE BOOK:
Amazon >
Barnes & Noble >
Vintage, 1995
A stunning, erotic thriller by the bestselling author of Whiteness of Bones. Following the gruesome murder of a young woman in her neighborhood, a self-determined woman living in New York City--as if to test the limits of her own safety--propels herself into an impossibly risky sexual liaison. Soon she grows increasingly wary about the motives of every man with whom she has contact--and about her own.

--
"The Bold, Feminist Psychosexual Thriller You Need To Read Now," Vogue, January 2020
"Indeed it is the non-sexual moments that induce more chills. Frannie is followed, surprised and stalked by more than a few men over the course of the story, evidence of how in Moore's New York, no woman, no matter her race, class or intellect, can consider herself safe.

The White Review, November 2019
"IN THE CUT is, like the film, deeply, achingly erotic; not in spite of, but because of its acknowledgement that violence hovers all around. Sex, if we are lucky, is not just hot; it also touches on our deepest fears, our deepest pains. This is the quandary: desire unfolds within a landscape of violence."
"
Sex and violence: what has changed for women since In the Cut?,"
The Guardian, November 2019
"The book is sexy and violent, on the knife edge between desire and danger, but it's also interested in the framing of these kinds of stories: on the opening page, Frannie deliberates over giving her students certain texts to read as "they would be so sensibly outraged by the beating, murdering and dismemberment of women that they might not be able to see the intelligence in the books"."
Publishers Weekly, October 1995
"Here, Moore has honed her prose with knife-like precision to construct an edgy, intense, erotic thriller set in bohemian Manhattan."