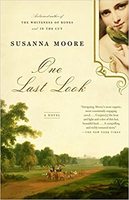 ORDER THE BOOK:
Amazon >
Indiebound>
Barnes & Noble >
Vintage, Published 2004
After several wretched months at sea, Eleanor Oliphant arrives in Calcutta with her brother Henry and sister Harriet. It is 1836, and her beloved Henry has just been appointed England's new Governor-General for India. Eleanor is to be his official hostess.
Despite the imported English gowns and formal soirées, India makes a mockery of Eleanor's sensibilities. Burning heat, starving people, insects as big as eggs—it is all an unreal dream, rife with tumultuous life. Harriet gives herself over to the adventure. Henry busies himself with official duties. Eleanor, though groping for bearings, slowly finds her isolation punctuated by moments of elation: her first monsoon, graceful women in vibrant sarees, Benares rising out of the mist. She discovers she likes curries and her native servants; and often dislikes her compatriots. Over the course of six years and a trek from Calcutta to Kabul and back, India manages to unsettle all of her "old, old ideas.

--
The New York Times, October 2003
"
What Ms. Moore does so well in this book is what she did so well in her early novels set in Hawaii: she conjures the heat and light and color of this hot, beautiful land, its smells and sensual allure...a compelling and richly textured story."

The Seattle Times, October 2003
"
Vertinginous. . . .The sense of passing through a distant, phantasmagorical place with a curious and perceptive guide, is undeniable."
The Washington Post, December 2003, "Choice Cuts of 2003"
"
A lush, delicious, sensuous, intelligent novel of the British raj, which examines the question of who conquers whom within the context of colonialism"

The Chicago Trbune, October 2003
"An enormous accomplishment–vivid and precise, evocative and alluring, reflective of impressive scholarship. . . . Moore is an extraordinarily gifted conjurer of weather, smells and sickness; riches, blisters and bugs. Her words stream directly off the page."