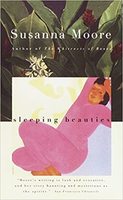 ORDER THE BOOK:
Amazon >
Barnes & Noble >
Vintage, 1994
Like her much-acclaimed previous novels, Susanna Moore's Sleeping Beauties is set in Hawaii, whose shimmering beauty and melancholy traditions are both seductive and dangerously hard to leave. Or so they prove for Clio, who marries a well-known Hollywood actor--providing her with the promise of escape from the entanglements of island life.

--
Publishers Weekly, August 1993
"Moore's account of Clio's coming of age is both unsparing and lyrical, as she fuses the worlds of appearance and reality in an intensely imagined narrative. "
Kirkus,
September 1993
"The Hawaii we see here is enchanting, dangerous, and at the brink of being lost forever. Moore locates it permanently for us- -just midway between fever dream and fairy tale."