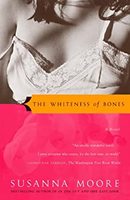 ORDER THE BOOK:
Amazon>
Barnes & Noble>
Vintage, 2012
In her ravishing and moving second novel, the bestselling author of In the Cut tells the story of Mamie Clarke, who sets out to lose herself in New York City.

Having only previously known the fragile, magical world of her childhood on the lush Hawaiian island of Kaua'i, Mamie leaves college to visit her sophisticated aunt in New York. With her beautiful and self-destructive younger sister Claire in tow, Mamie must learn to make her way in a world of money, power, sex, and drugs. Moore's sharp and witty book captures an unforgettable time and place—the Manhattan of the early 80s— and the powerful feelings engendered there.

--
Publisher's Weekly, February 1989
"..this is an engrossing novel, profoundly disturbing in its message of feminine guilt, yet satisfying in Mamie's eventual recognition of how to ``purify'' her soul."